The 86th Summer Concert
Sunday 12th August, 2018 - 2:52pm
By Simon Bromage
It seems an eternity since the choir first started to learn new pieces of music for this year's Summer Festival Concert. However the practices flew by and the 86th concert has come and gone. From the comments received by members of the public it was truly a wonderful concert. Singing to a sell out audience at St Mary's Church, that included Penzance Town Mayor, Councillor Dick Cliffe and his wife, were holidaymakers from overseas and throughout the country as well as members of many Cornish male choirs. As always, the choir introduced another eight pieces of music to its current repertoire, five of which were premiered at the concert.
The choir's guest artist this year was the renowned Mezzo Soprano, Faryl Smith, who was supported by the excellent accompaniment from Mousehole's very own, Annette Turton. This was the third occasion in which the choir have been privileged to have Faryl sing at our concert, the last being in 2016. Simon Cowell said ten years ago "We may have just found a star". How right he was. Faryl wowed Penzance two years ago, but her voice just keeps getting better and she is only 23. From Lehar's 'Meine Lippen Sie Kussen So Heiss', to Claude-Michel Schonberg's 'I Dreamed A Dream' her performance combined a vocal purity, with a technical expertise that was flawless and stunning. There was no doubting that the standing ovation everyone gave her was well deserved.
This year's music included two pieces of music, written by Tony Farrell, from the choir's Bass section and music written by Annette Turton. Other new music included 'Hunker Down' by Tobin Stokes, Larry Nickel's arrangement of 'Royal Hudson' and what is fast becoming a firm favourite of the choir, Dan Forrest's 'And Can It Be?'
The Summer Festival Concert is the highlight of the choir's year when long service awards are presented to choir members. The awards were presented by President, Rev. Julyan Drew, who is also a great inspiration to the choir. This year was no exception when a total of 140 years of service were acknowledged. Ten year awards were presented to Jack Aitken, Geoff Jones, Colin Keith, Colin Lawry and Ken Prouse. Twenty year awards were also presented to Eric Kemp, Colin Trevorrow and Justin Williams. The most notable presentation, a 30 year award was made to Second Tenor, Tim James, who has also completed twenty years as choir secretary. Over the last twenty years, Tim has become the public face of the choir and it is to his credit that his service was recognised. Behind the scenes he works tirelessly on behalf of the choir and is a major reason why the Summer Festival concert, amongst other things, is the success that it is.
This year the choir were presented with a choir banner from the Kath Matthews, chair of the choir's Ladies Committee. The banner is a painting of Mousehole Harbour originally painted by the late Pam McGraa and will be seen at our concerts, home and away in the future.
The concert concluded with Faryl joining the choir to sing 'Abide With Me' in an arrangement created by the choir's Musical Director, Stephen Lawry. Following the concert, the choir, their families and Faryl together with her family sang the night away at The Bath Inn. Thanks must go to Paul Gooding for providing the hospitality which everyone enjoyed.
Thanks also go to choir Vice President, Ray Sowden who designs the programmes and posters and also for the photography he undertakes. This has been said countless times, but it's worth repeating that thanks also go to our musical team of Annette Turton, Dave Williams and our MD, Stephen Lawry who by their dedicated hard work ensure that Mousehole Male Voice Choir continue and remain to be at the top of their game.
Special Guest Artist Faryl Smith.
Special Guest Artist Faryl Smith.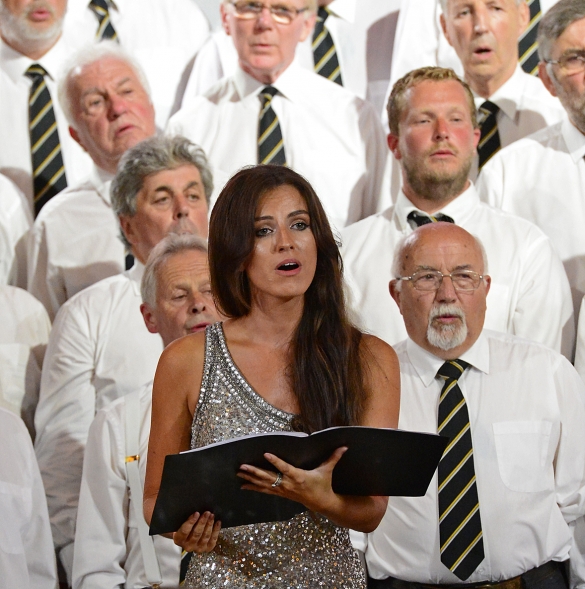 Special Guest Artist Faryl Smith.
Long service awards by Choir President Rev. Julyan Drew.
10 year awards - left to right, Geoff Jones, Ken Prouse, Colin Keith, Colin Lawry, Jack Aitken.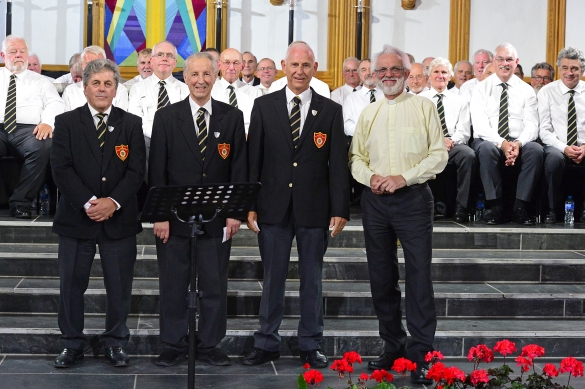 20 year awards - left to right, Colin Trevorrow, Eric Kemp, Justin Williams.
30 year award. Tim James.
Presentation of the banner to Choir Chairman Charles Law by Kath Matthews, Ladies Committee Chairman.
Presentation of a bouquet of flowers to Faryl by Tim James, Choir Secretary.