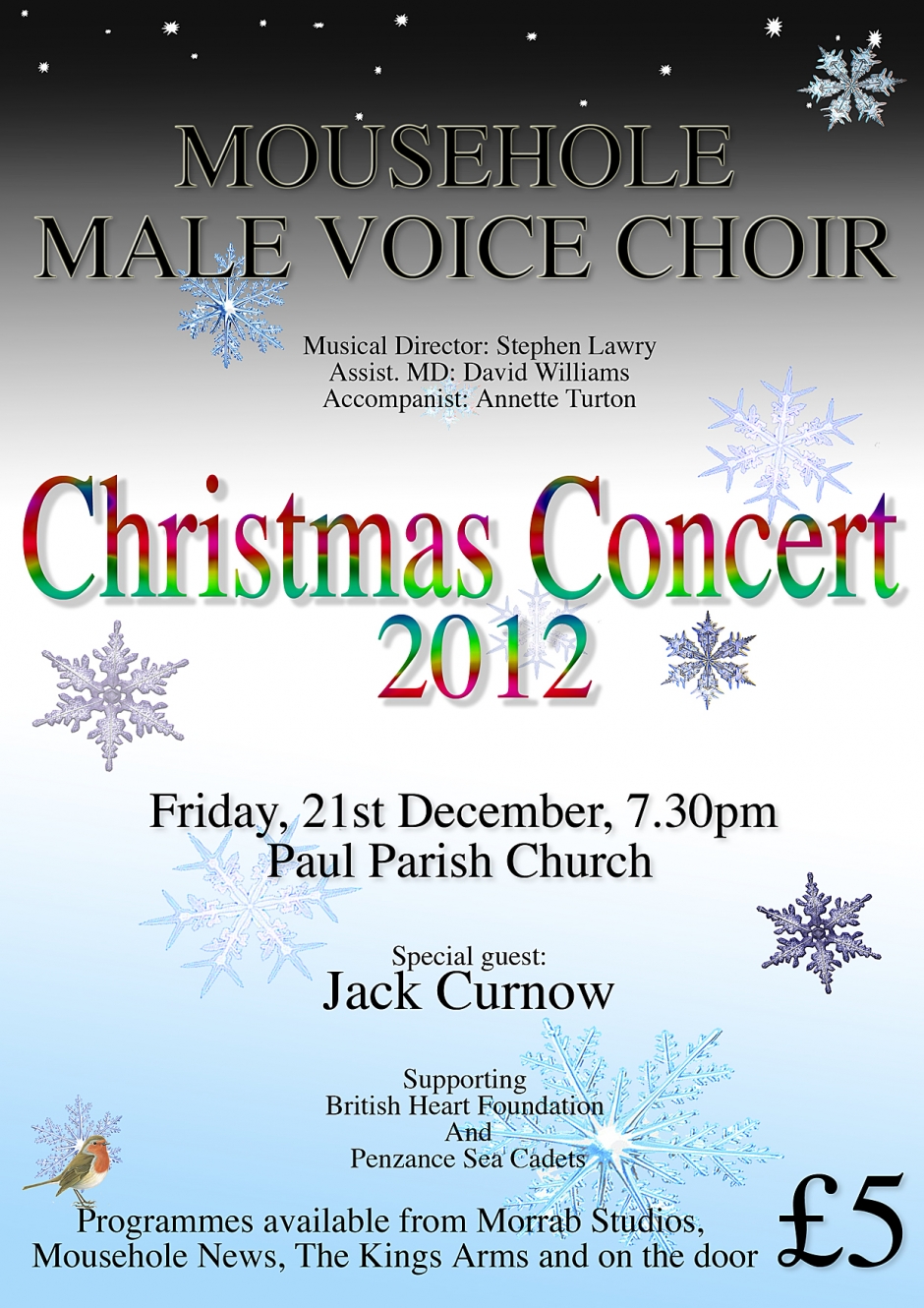 Mousehole Christmas Concert
Monday 17th December, 2012 - 5:32pm
On Friday 21st December, at 7.30pm, Mousehole Male Voice Choir will present its Christmas Concert in Paul Church. Admission will be £5 - a bargain for this big event - and programmes will be available from the Kings Arms, Paul; Mousehole News; and Morrab Studio, or you can pay at the door. The two charities which will benefit from this event will be Penzance Sea Cadets and the British Heart Foundation (Penzance branch).
The choir's regular supporters will know that the church will be packed and the village will be heaving with cars so it is essential to get there early and please make sure that you park so that buses and emergency vehicles can pass through unhindered.
The Mousehole choir is now the largest largest male voice choir in Cornwall with a world wide following through its television appearances, radio broadcasts and recordings. Stephen Lawry, the choir's Musical Director, will lead them in presenting traditional Christmas music and Cornish Carols, together with new pieces arranged for this very special annual concert, with their Accompanist, Annette Turton, adding her own brilliance to the occasion. The guest artiste will be Jack Curnow, a young jazz crooner whose style will add a new dimension to the programme.
Jack Curnow is a 20 year old musician from Cornwall who was previously a pupil at Humphry Davy School, where he was a member of the Humphry Davy Big Band and was first introduced to singing there. When Jack moved to Helston Community College he was a member of the award winning Helston School Jazz Orchestra as a bass trombonist (following his brass roots). After a short while he was given the opportunity to sing with the band and he realised how much of a passion he had for it. and there's no stopping him now!! Jack is currently studying for a degree in Music at the University College, Falmouth.
Singing with the Jazz Orchestra has resulted in Jack performing at a variety of locations far and wide, including the National Finals in Glasgow and a memorable Jazz Tour around the Coast of Torrevieja, Spain. All of which has provided Jack with great experience as a singer specialising in Jazz and Swing which has made him a popular guest artiste at weddings and parties.
Jack will be presenting songs in the 'Michael Buble' style when he sings in the Paul Church Christmas Concert. Girls - if you are going to swoon - there are several qualified first aiders in the choir!