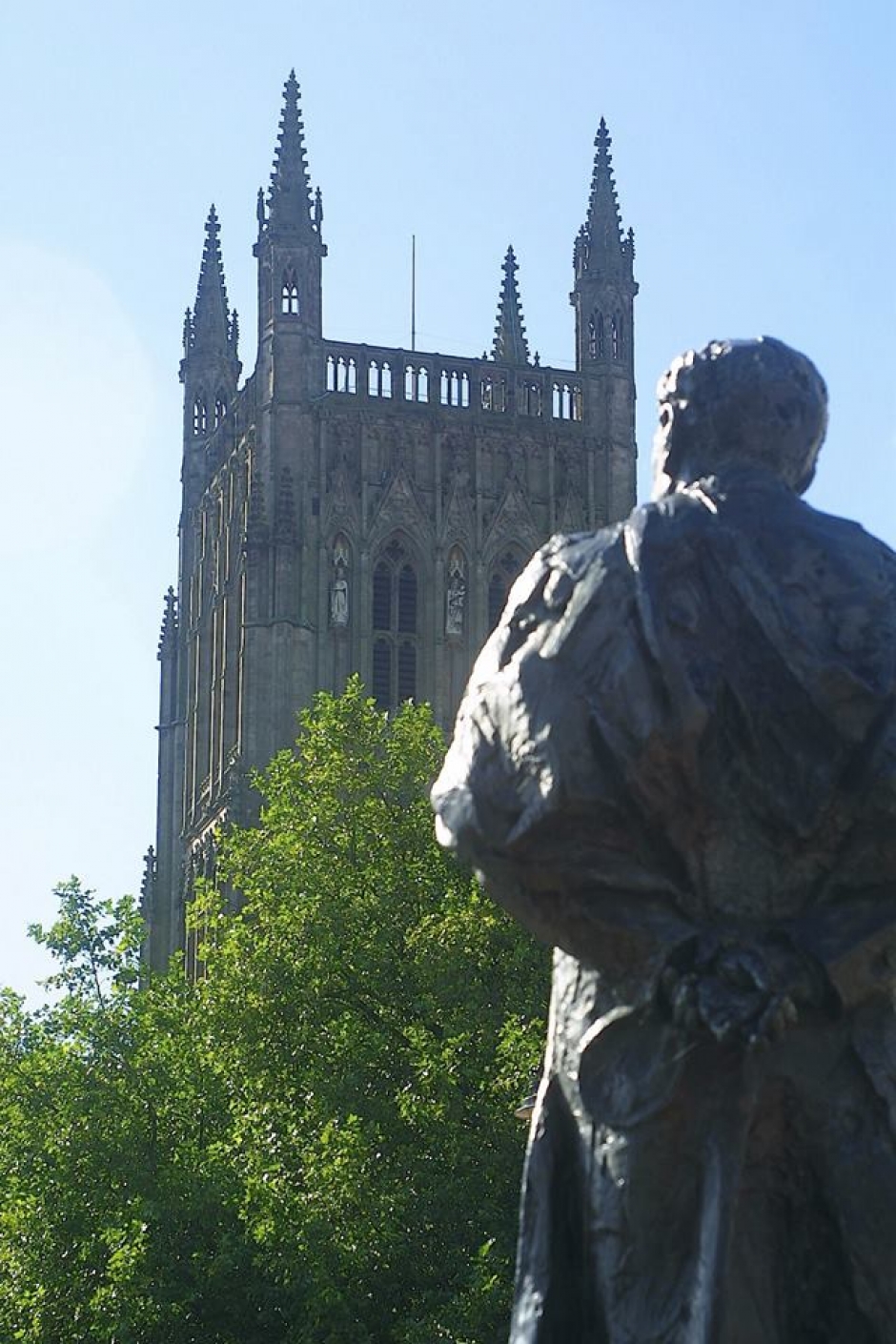 Worcester Source the Cream of Cornwall.
Thursday 13th November, 2014 - 10:54am
They arrive in dribs and drabs, lugging different sized cases and bags. Some sit quietly on the wall of the Sportsman's. Others make a last minute dash to the Heamoor shop for a copy of the Cornishman ...the comfort blanket publication for most who are about to leave the county. A few nip round the corner to Warrens to stock up on saffron buns and pasties for the journey.
The sight of the Mounts Bay coach with Val at the helm raises spirits even higher. On board already are a few motley St. Justers who have nabbed the back seats and greet those clambering inside with good humoured irreverence. Numbers checked, blazers stowed and its off to Eastern Green where the next contingent await. Picking up speed we drag Kevin "David Bailey" Wild onto the coach and then it's on to the Star where the Crowlas posse swagger onto the coach like the Jessy James gang ...take away James from the last sentence and you'll have a more accurate description of their arrival.
Onto Hayle where a few itinerant Hakes are let on the coach ...we are an inclusive and tolerant choir that gives ethnic minorities a fair chance. Final stop is Chiverton Cross where one of the tenor section starts to disembark as he thinks we are at Worcester already.
At last it feels as if the journey has begun in earnest. As we cross the border into England thoughts begin to turn to the first motorway stop at Taunton. Will the other coach be there? Will Jack Aitken have eaten all the food before we get off? Has Harry realised that Annette hasn't let herself go and that it's in fact Alistair Taylor in the seat in front of him? So many questions, so few answers ...which is just like the quiz on the bus after we leave Taunton. The demeanour changes as the competitive juices flow and the quiz master has to stamp his authority on a number of occasions.
In the back row, gnarled and seasoned veterans Dale and Batten have to give second best to Clive "when I'm cleaning windows" Gronow and Stavros.
As we approach Worcester Vance "trip adviser" Webster kicks into action. He is to be congratulated on choosing and organising such superb accommodation. Taking over from John "latebookings.com" Hobbs, the hotel this year is said by many to be the best we have stayed in.
My mucker and partner in crime had this year driven up from Launceston and Mr. and Mrs. Ellis were on their second G&T by the time we had arrived. Close behind him in his customised Volvo Hotpoint was Patrick "Ebay" Semmens.
An early evening meal at the hotel was followed by a gentle stroll to the Slug and Lettuce in the centre of the city. An advanced party had warned them that 30 or 40 thirsty Cornishmen were coming to town and the manager wisely whistled up more staff. The Slug and Lettuce is an old converted chapel and still had the pulpit standing. The acoustics were remarkable, the beer delectable and the subsequent singing remarkable. The locals who had come out for a quiet drink on a Thursday night had a night to remember. Singing with friends and with a beer is something we take for granted ...but it's an alien concept in most places and the locals loved it.
After a sumptuous breakfast, the cool, calm and very laid back secretary sauntered over to Worcester Cathedral to check on our lunchtime venue. As a choir we are and have been incredibly lucky to sing in many magnificent venues. These don't just fall into our lap. We don't just phone up the day before and say "it's Mousehole Male Voice Choir here ...we'll be around tomorrow to sing. Can you let a few people know and try and sell a few tickets while you're at it". We owe a huge vote of thanks to Tim James for his efforts in securing us these venues. Over the years he has re-organised chairs in such places as York Minster, Wells Cathedral, Southwalk Cathedral, Worcester Cathedral, The Royal Albert Hall and Carbis Bay.
By now the choir was ready and eager to perform their lunchtime concert. Another large crowd flocked to the magnificent Worcester Cathedral. This beautiful, inspiring and incredible resonant building demanded a quality performance from the choir, and they didn't disappoint. The programme selected by our M.D. Stephen Lawry included a number of the new songs he has chosen for us and they complemented the surroundings and the choir beautifully. From the evocative 'I Hear Music' to the rousing 'We Rise Again', Mousehole once again enthralled the audience. The complements we elicited after the concert was another testament to how well our musical team has got Mousehole singing.
After the concert the choir had a few hours to prepare for the trip to Kidderminster where we were to sing at another beautiful venue – St.Mary's Church. Our hosts, Kidderminster Male Voice Choir, provided us with a magnificent tea before the evening concert. The tenor section and Jack Aitken descended upon the spread like feral St.Ives seagulls.
Absent from this gargantuan feast was our marshall – Morgan 'I wish I could sing like Rodney' Ellis, with his usual military precision, he was not only sorting out our seating and the formation of our entrance but also keeping an eye out for Nigel 'can I borrow a comb' Ranger. Nigel had also recently left the choir to take up a posting further afield but was driving down to Kidderminster to watch and support the choir. Unbeknown to him, Morgan has arranged to his old blazer to be brought along, and when he arrived, he was handed his old uniform and told to sing. A touching and emotional occasion which highlighted the 'family factor' that Mousehole if known for.
Another stunning acoustic venue at St.Mary's church, again helped coax a superb performance from the Mousehole choir. A sell out audience was treated to more quality singing and they also enjoyed a musical accompanist, Alistair Taylor, driving the Rock Island Line almost off the tracks with his speed of playing. Standing ovations greeted many songs, and it was no doubt that it was another great concert. Again the varied programme was commented on. We allowed a Welshman to do a solo in a song about some bloke called Thomas, another Welshman to take his jacket off and play a toy guitar whilst we sang about a rainbow and a Scillionian to blow his own trumpet before being ran over by a train.
And talking of trains ...we all thought John Swann was going to spontaneously combust when we arrived at the afterglow provided by Kidderminster. On a station where a steam engine lived and still runs, we were treated to more food and beer, and singing with our hosts. A lovely venue where friendships were cemented. Back to a perfect hotel with a comfy bed, a great end to a great day.
Another sunny morning, another excellent breakfast. Saturday was a free day. Some decided to go and watch Worcester play rugby, some went shopping with wives and sweethearts, some went walking along the river. Two coaches though left the hotel for a trip to Stratford – the birthplace of the famous bard William Shakespeare. Our own famous bard nearly had his bardic name changed from Deep Harmony to Kernow Crushnuts after a risky piece of hurdling down Stratford high street. As ever, his judgement like his conducting was inch perfect.
Our evening concert was at the invitation of Worcester Male voice choir. Held in the iconic College Hall behind Worcester Cathedral, this venue is regarded as the best place for male voice choirs to sing anywhere in the country. With magnificent acoustics, it has held countless singing competitions over the years. Again it was a venue that demanded respect, reverence and quality singing. Again, there is no doubt that Mousehole delivered, startling the audience and their hosts with richness of tone and power. There was a steely determination amongst the choir as we waited outside the entrance as Worcester opened the concert with their version of 'God Save The Queen'. As Mousehole marched into the building singing and formed up below the seated Worcester choir, you just sensed there was something special to come. Deputy M.D. Dave 'watch me and don't make a spectacle of yourself' Williams, took us for the first number 'Go Down Moses'. The response he got from the choir was superb. It's not often that you get people giving standing ovations from your first number, but a few in the audience felt compelled to do so. That performance set the tone for two memorable sets from Mousehole. Despite a lengthy interval, the choir held their concentration and discipline, and the final song 'We Rise Again' brought the house down.
A reception in the Civic Hall in Worcester after the concert, again gave Mousehole the chance to demonstrated their prowess and show the importance of social singing after a concert. We slowly walked back to our hotel in the early hours of Sunday morning, reflecting on another hugely successful and enjoyable trip away across the border.
The choir is going from strength to strength. Under the guidance of a great music team, Mousehole is not only forging an enviable reputation in Cornwall, but nationwide as well. This is due to a lot of hard work by many people. The determination within the choir to improve and enjoy it's singing reflects how highly we regard Stephen, David and Annette.
What does the future hold? Well Rambo is already working away at venues for next year. Where will he be re-organising chairs next? Vance is looking at hotels and trying to get us a free round of golf. Lord Sugar is brushing up on his speeches and the musical team are no doubt looking for more pieces. Last but not least, the old saying 'behind every good man is a good woman' holds true with Mousehole Male Voice Choir. We owe a great deal of thanks to the Ladies Committee who help and support in so many ways.