International Choir Festival
Wednesday 12th June, 2013 - 9:38am
And a good time was had by one and all!
The Sixth Cornwall International Male Voice Choir Festival
Regional Gala Concert at Chapel Street Methodist Church, Penzance
Thursday 2nd May 2013
A public apology.

There was an infringement of international trademark copyright in the recent posting on the website of Mousehole Male Voice Choir when a visiting choir was erroneously identified as the Czech Boys Choir Boni Pueri. Although submitted in good faith, this error was mine alone and no fault should be attached to Mousehole Male Voice Choir. The trademark Czech Boys Choir Boni Pueri is owned by Ph.Dr. Pavel Horak to whom my full and personal apology has been made and graciously accepted by Ph.Dr. Pavel Horak. The corrected article appears below. Trevor Walker; Press Officer to Mousehole Male Voice Choir. 10th June 2013.
The opening night of the sixth Cornwall International Male Voice Choir Festival was a night to remember for the large audience attending the Regional Gala Concert in Chapel Street Methodist Church, Penzance, when Mousehole Male Voice Choir hosted a 4-choir event of superb performances.
Douglas Williams, MBE — who knows a thing or two about singing — was the Compère and said afterwards that it was a real pleasure to attend such a well rounded programme of excellent choral singing ranging over such a wide spectrum of moods from the sacred to the secular and particularly noted that three of the choirs moved to the stage singing which added to the audience's enjoyment.
Douglas was pleased to welcome representatives from the main festival sponsors, HSBC, and the local sponsors, the new Lord and Lady St. Levan, James and Mary St. Aubyn of St. Michael's Mount, and Penzance Town Council, represented by the Town Mayor, Cllr. Philip Rendle, accompanied by Cllr. Fiona Thomas-Lambourn. Douglas also noted the presence of Edwina Currie, one-time M.P. and Cabinet Minister, author, and a star of Strictly Come Dancing. Edwina had travelled with the Tideswell Male Voice Choir as their new President and is married to one of their baritones, John Jones.
Tideswell were the first choir to perform, resplendent in their golden blazers and it immediately showed that they they sound as good as they look. Glances of approval passed between the members of the Mousehole choir, appreciative of a highly professional performance under their Musical Director, Douglas Kay, with the impressive support of their talented Accompanist, Chris Ellis.
Next were the Czech Boys Choir and it has to be said, without any disrespect to the other performers, they were the stars of the show. To have such talent at a young age is a shining example and inspiration to any choir. From the moment of their entry, singing on their way to the stage in their golden cassocks, they had the audience in the palms of their hands and their Musical Director, Jakub Martinec, can be justly proud of them. For the most part they sang a capella but, where required, their Accompanist, Martin Fisl, provided sensitive support.
Their early pieces were of a sacred nature but, suddenly, the golden cassocks were shed in a flash and revealed the boys in national costume to sing a lively group of Czech folk songs with dazzling piano accompaniment by Martin Fisl. The boys got a richly deserved and lengthy standing ovation.
Martin Fisl deserves a special mention. Martin was born in 1980 in Brno, Czech Republic and is a graduate of the Academy of Performing Arts in Prague. He is an internationally known solo concert pianist who regularly makes recordings for the Czech Radio and cooperates with choirs on concert tours in all Europe, in Canada, and in China at the Shanghai Hall.
After an interval, the MGV Liederblüte Übermeyer came to the stage to perform their own group of exquisitely sung unaccompanied pieces led by their Musical Director, David Fritzen. The German choir had chosen a wide ranging programme of sacred pieces in Latin and secular pieces in German and also included the popular My Lord What A Morning in English; theirs was yet another polished and professional which earned them richly deserved, sustained applause.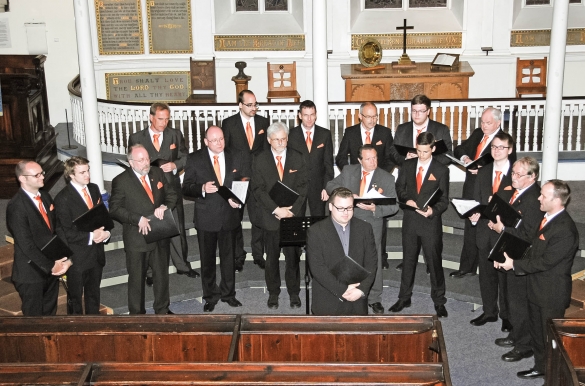 The concert hosts, Mousehole Male Voice Choir, the largest in the Cornish Federation, came singing to the platform led by their Musical Director, Stephen Lawry, and then demonstrated their power with a blast of sound in their opening number, Goff Richards setting of Let There Be Light. The Mousehole choir has the blessing of an extremely skilled Accompanist, Annette Turton, to add that extra zing to their performance which included a new piece on the local music scene, Mill Mud, by the New Zealand composer David Hamilton, and The Star Of The County Down with choir member Colin Trevorrow as the tenor soloist. They closed the concert with a sensitive rendering of Bring Him Home to prove their soft singing qualities and finally the moving Anthem from 'Chess'.
The concert was over but not the entertainment as the Mousehole Male Voice Choir Ladies Committee had created a magnificent buffet feast for the visiting choirs and their supporters at the Astro Club, Penzance. Sadly the German choir was on a tight schedule and could not stay. The Czech boys received yet another standing ovation on their arrival. When all had eaten their fill - and still not cleared the table - the singing began again with the Tideswell and Mousehole choirs, pints of beer in hand, merging informally in well known melodies.
All good things must come to an end; it was late and time to go to bed.
The Tideswell Choir invited Mousehole Male Voice Choir to a 'return match' in Buxton, their home base in Derbyshire and this has been pencilled in the diary for Autumn 2015, the earliest slot that Mousehole will have available for the trip.